The Ivy Towers are green pillars for urban areas. The cylindrical base is constructed of CorTen steel, 220 cm diameter. If desired it can be fitted with a semi-circular seat of Solid slats (7x7 cm-2.8"x2.8") made of FSC® hardwood.

The Ivy Towers are a standard 500 cm tall and are fitted with wire mesh for climbing plants. They are available in warm CorTen or coated in RAL colour. Consult your plant specialist to find the perfect climbing plant for your needs!

A wide range of climbing plants can grow on the Ivy Towers. Get inspiration from your plant specialist and create a stunningly colourful and fragrant display! Above and beyond the well-known evergreen ivy (Hedera), there are many suitable climbing plants to choose from including:

Birthwort (Aristolochia);

Wisteria;

Red Virginia creeper (Parthenocissus);

Clematis varieties;

Perennial climbing rose varieties;

Silver Lace vine (Fallopia baldschuanica);

Vitaceae climbing plants (Vitis)

Products supplied within the North American market are fully manufactured in the USA.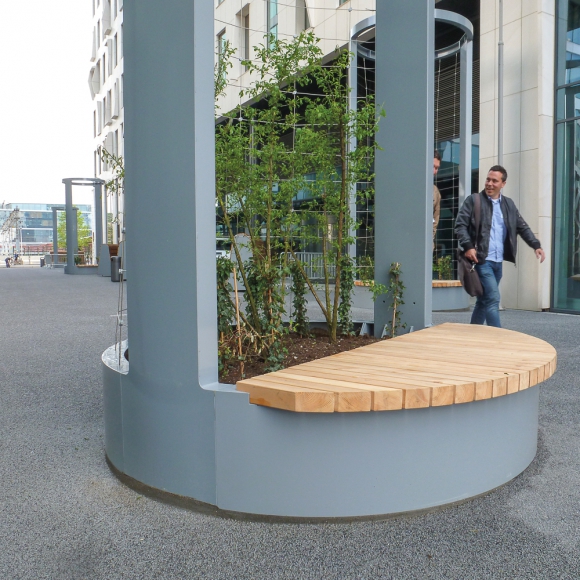 Possibilities and restraints
Standard diameter of ca.220 cm | 87"
Standard height of ca.500 cm | 197"
A semi-circular seat is optional
A mesh (5mm stainless steel) for ivy is optional
The standard material is untreated weathering steel (-CT), optionally at a surcharge finished in a double layer powder coating (-PC)