All Black proves itself to be a durable alternative! Climate protection is becoming an issue on an increasingly smaller scale. Everybody is willing to help and can contribute towards achieving climate goals. Good insulation, LED lighting and waste separation are now the new standard. When choosing sustainable street furniture, All Black is a responsible alternative to hardwood. At Streetlife, we notice that interest in sustainable products is increasing and the demand for All Black is now really taking off.
This is not really surprising because this recycled product has many advantages, in terms of both sustainability and maintenance. Ink and paint hardly adhere to the surface and cold, heat and UV radiation have no impact on the beams. The material complies with NEN 6065 fire class 3, which makes it extremely suitable for use in demanding environments such as playgrounds and coastal zones.
All Black is made of recycled plastic (PE and PP) from, for example, bottle caps, crates and agricultural plastics. Reusing these products helps not only reduce the enormous plastic waste stream but also cuts down on the need for transportation due to the local availability of these resources. No chemicals are added to the raw material, only soot for the colouring, All Black has a very low carbon footprint and can itself be recycled.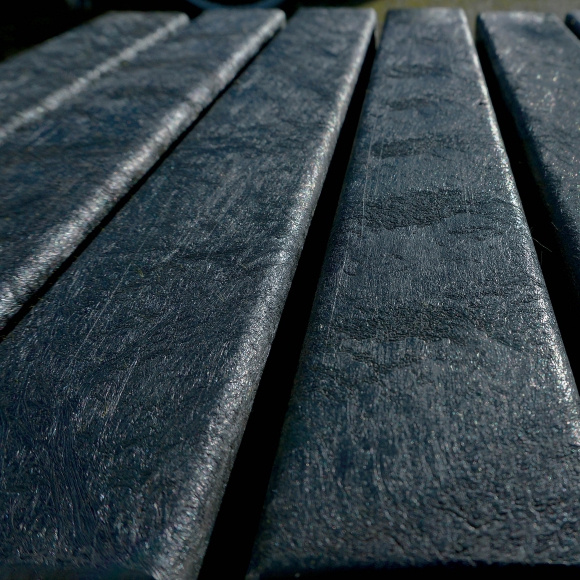 The end product is durable, does not require maintenance and will not splinter or warp. The material is black throughout and damage is therefore barely noticeable. As All Black beams have a matt appearance and rough texture, the product does not look like plastic. Finally, the very long lifespan (at least 50 years) of the material makes it a more than suitable alternative to hardwood.
All Black is a standard feature in the Streetlife Collection, and all products within the Rough&Ready Range can be made with these black beams: landscaping elements from benches and bridges to tree planters and picnic sets.This offers the architect unique freedom to combine elements within a single, uniquely coherent collection.
The Rough&Ready Range owes its cohesion to the distinct, standardised R&R beam size of 7x15 cm. The steel supports of the products can be delivered in galvanised, coated or CorTen steel. All Black beams, with their deep black finish, allow for the creation of beautiful contrasts, an aesthetic feature that underlines just how unique the material actually is.