Rough&Ready (R&R) 10 Benches are sturdy benches that are not easily overlooked. These wide, versatile seating elements work very well in larger urban public spaces. R&R 10 Benches are constructed with ten robust beams fitted with the Streetlock® system. The benches form a spacious, double-sided seating area. They can be linked together endlessly. Single and double backrests and armrests are optional and easy to install.

The R&R beams are available in FSC hardwood, Accoya or All Black recyclate. The supports are made from hot-dip galvanised steel or CorTen and are optionally powder coated.

Lengths wood versions: 234 cm and 300 cm – 92" and 118"
Length All Black versions: 234 cm – 92"

Products supplied within the North American market are fully manufactured in the USA.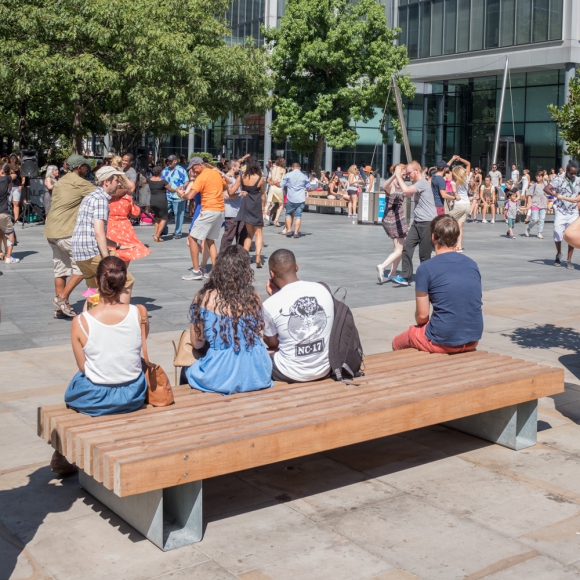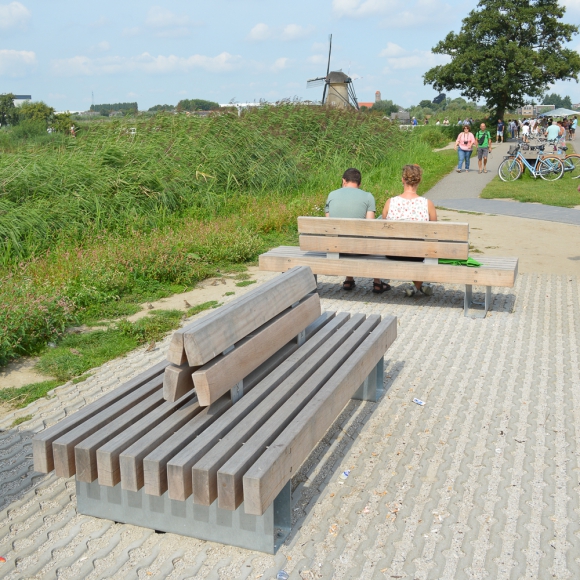 Possibilities and restraints
Available in standard lengths of ca.234 or 300 cm | 92" or 118"
On request available in custom lengths of up to ca.300 cm | 118"
Longer setups are possible with extension modules
Optionally available are armrests or several types of backrests
Optionally a LEDbox is available to house the drivers for LED lighting together with making provisions in the wooden beams for LED strips
By default in galvanized steel (-TH), optionally steel parts in untreated weathering steel (-CT) or finished in a double layer powder coating (-PC)
Also available in All Black composite material (-AB, max. beams length 250 cm | 98")