To have Tree Guards in CorTen steel creates a beautiful coherence with the CorTen Tree Grilles. The combined design of grille and guard delivers a warm, contemporary image that complements the tree. All Tree Guard models are fitted with the patented Guardlock® mounting system. This smart system ensures a beautifully detailed and solid mounting of guard to grille, without the fixings being visible.

The Lotus Tree Guard has continuous vertical CorTen slats. This sturdy tree guard has a more natural shape.
The Round Tree Guard is based on an understated, minimal design. The Tree Guard beautifully aligns with the roundness of the trunk. The Round Tree Guards are beautifully detailed and are a full-fledged alternative to the classic tree protector. The CorTen steel or stainless steel side plates join the two halves together.
The Carré Tree Guard is square-shaped and can only be combined with square tree grilles.
The Solid Tree Guard combines a rugged design with an attractive wooden Solid top slat of FSC® hardwood. It is a sturdy guard that forms part of the Solid Series of street furniture.
The new Tree Guard Outline provides the optimal balance of transparency and support.

Products supplied within the North American market are fully manufactured in the USA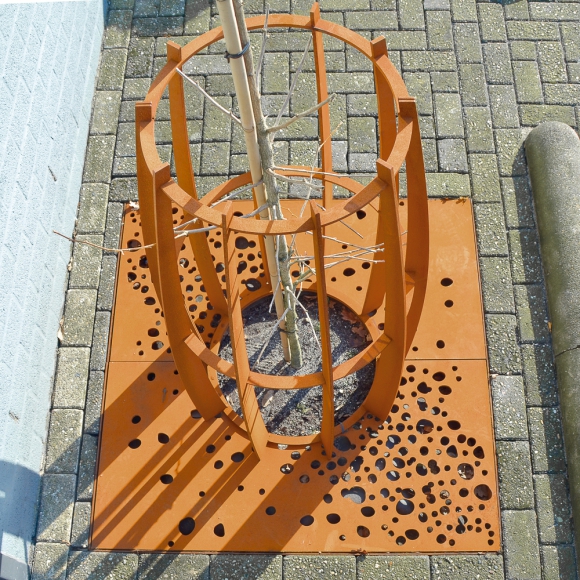 Possibilities and restraints
Available in diameters ranging from ca. 50 to 180 cm | 20" to 71" and heights of 30 tot 135 cm | 12" to 53"