The seat of the Rough&Ready (R&R) Odds&Ends Bench is made from waste created during the production of benches in the Streetlife R&R Range. The residual beams are assembled using stainless steel Streetlock® pin connections developed for this purpose and the seat beams have a seat depth of 50 cm. It is in this seat depth that the R&R Odds&Ends really come into their own and optimum use is made of the residual waste flow. Because the pieces vary in length, a unique and playful pattern is created.

As the 7x15 cm - 2.8"x5.9" beams are transversely oriented, the R&R Odds&Ends Bench is available in both Crosswise and Curved versions. The orientation of the beams provides natural anti-skate protection.

Low, high and Royal Back backrest as well as the universal armrest can optionally be mounted on the bench.

Products supplied within the North American market are fully manufactured in the USA.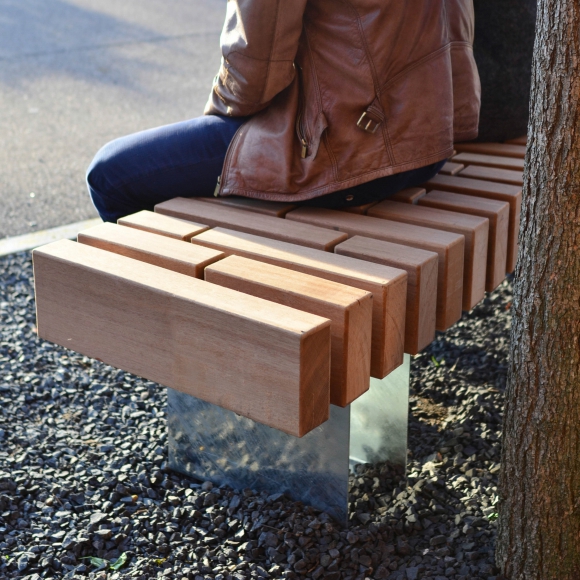 Possibilities and restraints
Standard seating depths are ca. 50 or 60 cm | 20" or 24"
Available in different radii, depending on the seating depth
Longer setups are possible with extension modules
Optionally available are armrests or several types of backrests
Optionally a LEDbox is available to house the drivers for LED lighting
By default in galvanized steel (-TH), optionally steel parts in untreated weathering steel (-CT) or finished in a double layer powder coating (-PC)