The USB Power Charger, a brand new accessory in the Streetlife Collection, is ideal for use on university or corporate campuses, in shopping areas or near bus and train stations. The module is made from glass-bead blasted stainless steel and is placed centrally above the support unit, flush with the seat beam.
The USB Power Charger has an IP67 protection rating, which indicates that the module is dust-free and highly water-resistant. This is partly achieved by encasing the circuit board in resin. The module has a standby function and comes with wiring, which can be fed to the ground via the support unit and is therefore concealed. The local contractor can easily connect it to a 24 V transformer. Size: 15x15 cm – 5.9"x5.9"
The Drifter Armrest can be added to products in the Drifter Range. Armrests afford comfort and help when getting up. They can also be used to prevent reclining on the bench and are a natural anti-skate solution.
The Drifter Backrest and Armrest can be freely positioned on the seat, which allows for different seating configurations. Backrest lengths: 120 and 180 cm – 47" and 71".
Drifter Armrests has a special multi-coloured coating (Two Tone CorTen) as standard. This gives the steel bracket the warm appearance of CorTen steel while preventing staining.
Products supplied within the North American market are fully manufactured in the USA.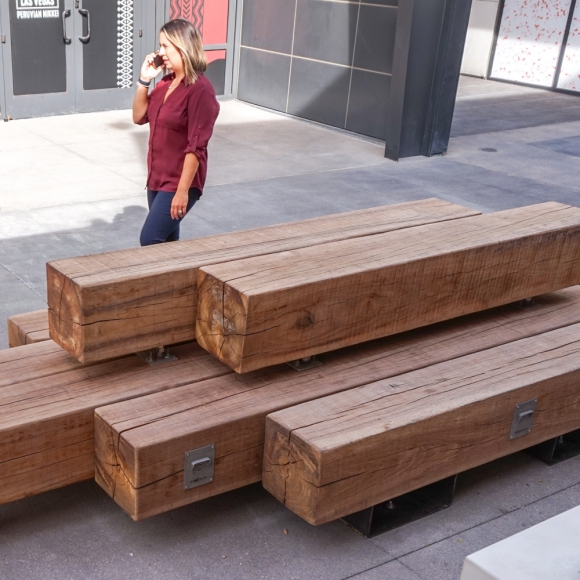 Possibilities and restraints
The USB Power Charger can be used across the entire R&R Range. The Charger has an IP67 protection rating (immersion-proof), a standby function and is IEC (CB) and EMC certified to guarantee safe use outdoors
The Classic Armrest is available in powder coating, Two Tone CorTen coating and glass-bead blasted stainless steel